Labor shortages hinder public transit rebound according to new APTA report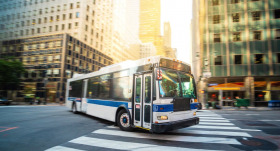 In this article, Smart Cities Dive explores public transit's slow comeback in the U.S. since ridership declined after the start of the COVID-19 pandemic. Transit systems have now surpassed 70% of their 2020 ridership levels, but severe public transit labor shortages are hinder fuller recuperation.
In March, 96% of 190 agencies surveyed by the American Public Transportation Association reported experiencing labor shortages, according to a report released last month by the association. The shortages are most acute at agencies serving large, urbanized areas and agencies with greater ridership.
According to the study, workers are leaving transit jobs due to concerns about wages, safety, inflexible schedules and lack of professional growth, but there are a number of strategies that transit agencies can take to recruit new employees and streamline the hiring process – especially when it comes to managing grievances about work schedules and compensation which are cited as the leading reasons transit workers quit.