We need your input on commuter travel behavior, telework choices, options since the COVID-19 Stay-At-Home order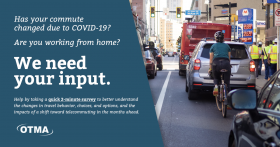 As Southern Pennsylvania continues to lift restrictions and moves through the Governor's reopening plan, Oakland TMA and our community partners are collecting information from commuters, workers, students, and visitors traveling into and around Pittsburgh to better understand the changes in travel behavior, choices and options, and the impacts of a shift toward telecommuting (or working from home) in the months ahead.
For workers and students who have modified or expect to modify how they travel, and those who are currently working from home, expect to work from home for all or a portion of their week, or would like to be given the option to work from home in the future – you are encouraged to give your response to the very short 10-question COVID-19 Telework Survey.
Please take 2-3 minutes and complete the survey here.
Thank you.