Transit Detours During Fifth Avenue Road Closure: August 3-5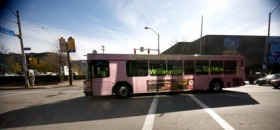 Filming of the next Batman movie, The Dark Knight Rises, will impact most Port Authority routes at some point during the month of August. Primary areas of impact will be Downtown Pittsburgh and Oakland, although other neighborhoods may also be affected.
Detours will take place throughout the month due to street closures. Additionally, delays are highly likely throughout August and throughout the city due to traffic control measures.
Due to the nature of the filming, detours are subject to change without notice.
Linked below are currently available detours; more detours will be added as they become available. Click through to view specific details on a detour, including house of impact and temporary stop changes.
To receive email notification on new detours as they're posted, subscribe to our detour alerts.
For all detours, including those not related to filming, view our detour list. For questions, contact Customer Service at 412-442-2000 or for TTY, 412-231-7007.
Detours by Date
August 2
August 3
Fifth Avenue closed between Bellefield and Craig (Oakland) 28X, 54, 58, 61A, 61B, 61C, 61D, 67, 71A, 71B, 71C, 71D, 75, P3
Changes to regional bus stops at Penn Station (Downtown) - Port Authority service not affected. BCTA: Route 1 & Route 4; FACT: Pittsburgh Commuter; Myers Coach Lines: Butler-Pittsburgh; New Castle Transit: Pittsburgh; Washington City Transit: Pittsburgh Commuter; Westmoreland Transit: 1FGreensburg-Pittsburgh, 2FLatrobe-Pittsburgh, 3FMt Pleasant-Pittsburgh, 14F New Kensington-Pittsburgh
August 4
Fifth Avenue closed between Bellefield and Craig (Oakland) 28X, 54, 58, 61A, 61B, 61C, 61D, 67, 71A, 71B, 71C, 71D, 75, P3
Changes to regional bus stops at Penn Station (Downtown) - Port Authority service not affected. BCTA: Route 1 & Route 4; FACT: Pittsburgh Commuter; Myers Coach Lines: Butler-Pittsburgh; New Castle Transit: Pittsburgh; Washington City Transit: Pittsburgh Commuter; Westmoreland Transit: 1FGreensburg-Pittsburgh, 2FLatrobe-Pittsburgh, 3FMt Pleasant-Pittsburgh, 14F New Kensington-Pittsburgh
August 5
Fifth Avenue closed between Bellefield and Craig (Oakland) 28X, 54, 58, 61A, 61B, 61C, 61D, 67, 71A, 71B, 71C, 71D, 75, P3