Port Authority has launched new Room2Ride tool to help riders plan trips with safe social distancing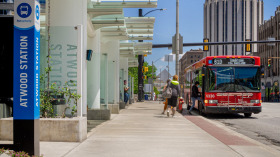 Port Authority has launched a new online tool to help riders plan trips with safe social distancing in mind. The tool, Room2Ride, shows riders how many other people they can expect on the bus when it reaches their stop by providing color-coded results based on the vehicle capacity limits established as a result of the coronavirus pandemic.
With Allegheny County's transition to the Green Phase on June 5, more riders are returning to work, the office and resuming everyday activities – including using public transit. The Room2Ride tool helps to estimate how full your bus usually is at scheduled bus stop time points.
"As our region opens for business, we want to make sure that our riders are equipped with as much information as possible so they can make the best decisions for themselves," said Port Authority CEO Katharine Kelleman.
In April, Port Authority set vehicle capacity limits to encourage social distancing and provide riders more space to spread out:
10 riders on a 35-foot bus
15 riders on a 40-foot bus
25 riders on a 60-foot articulated bus or light rail car
Using two weeks of historical data, Room2Ride shows how many riders have been on a particular trip at scheduled bus stop time points:
Blue means the vehicle capacity is below the capacity limit
Gray means the vehicle is at the limit
Orange means the vehicle is above the limit
Room2Ride will be updated weekly and will reflect new capacity limits as coronavirus restrictions ease.
Port Authority already provides real-time vehicle capacity information with TrueTime, an online trip planning and vehicle tracking tool, which can be found at www.PortAuthority.org/TrueTime.
For more information, riders are encouraged to contact Customer Service by calling 412-442-2000, on Twitter @pghtransitcare or via Live Chat at www.portauthority.org.
# # #
Source: Port Authority of Allegheny County
Image Credit: Facture