Port Authority begins testing new smartphone payment system in February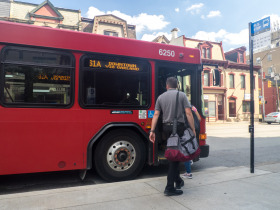 Port Authority of Allegheny County will begin testing its new smartphone payment system in February. Deemed Ready2Ride, the transit agency will begin the 3-month long pilot program for 400 riders who have met ridership criteria including that they pay their own fare (rather than fares being paid by third-parties like employers, schools, universities, or government programs).
Riders interested in participating in the pilot program can apply at https://www.portauthority.org/mobilepilot.
The smartphone app will be free and is compatible with iOS and Android operating systems.
This pilot program was originally slated to begin nearly a year ago, but the impacts of the ongoing pandemic made it difficult for contractor, Masabi LLC, to install "validator" devices on Port Authority vehicles because the agency was minimizing the number of people in its garages in response to social distancing guidelines.
As of January 19, the validator devices have been installed on a little over 80% of the agency's bus fleet. Given special federal fire safety standards that apply to light rail vehicles that operate underground, the validator devices will not be installed on the agency's "T" vehicles until later this year.
In a statement publisehd by Pittsburgh Post-Gazette, Authority spokesman Adam Brandolph saisd that it is a good time to test the system because ridership is still down substantially due to the pandemic, so buses won't be overrun with riders using a new system. The pilot program will begin in early February and riders will receive two online surveys during the trial to assess how the system is working and allow the authority to make changes before launching fully to all riders.
The new system works by allowing riders to link the Ready2Ride smartphone application to a credit card to purchase single ticket, weekly, or monthly pass and transfers in advance of taking a ride. Upon entering the bus, app users will simply hold their phone over the newly installed validator device, creating a contactless payment system that minimizes touchpoint interactions each rider has with each other, the driver, and physical systems in the vehicle – a timely development in rider experience during the current pandemic environment.
For more information on the pilot program, the agreement with app development contractor Masabi LLC, and other contracted partners, read Ed Blazina's article published by the Pittsburgh Post-Gazette here.