OTMA hosts 4th Annual Oakland Transportation Fair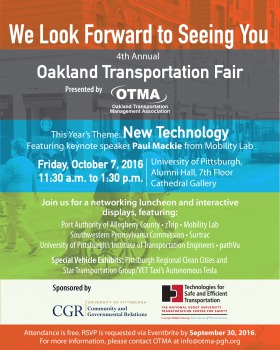 On Friday, October 7, 2016, Oakland Transportation Management Association hosted the 4th Annual Oakland Transportation Fair. Our theme for this year was "New Technology".
A select group of Exhibitors were invited to come out and display the new technology they are bringing to our region. Paul Mackie, Director of Communication for Mobility Lab, was our keynote speaker. Guests were also given the opportunity to sign-up for a short ride in an autonomous Tesla.
Thank you to our Sponsors: University of Pittsburgh's Community and Governmental Relations & the Traffic21 Institute at Carnegie Mellon University.
To view Paul's presentation, click here (attached).
To view picture from the event, click here (Facebook Event Photos)