Bike/ped alternate routes between Squirrel Hill & Regent Square after Fern Hollow Bridge collapse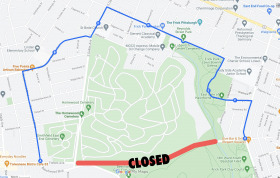 Fern Hollow Bridge Update, Monday, February 7, 2022:
Multimodal alternative routes to circumvent the long-term closure of Forbes Avenue between Dallas and Braddock Avenues after the loss of the Fern Hollow Bridge. Transit riders (61A/61B), cyclists, pedestrians, and all car/truck/van drivers and emergency vehicles will continue to be impacted indefinitely as work to remove debris and reconstruct the bridge is underway.
As you know by now, the Fern Hollow Bridge collapsed on Friday morning, January 28, resulting in the loss of a major connection route between neighborhoods for multimodal travelers from single-occupant vehicles, to pedestrians, transit riders, and cyclists. Additionally, this stretch of Forbes Avenue served as a truck route/emergency route and the primary detour route during times when the inbound Squirrel Hill Tunnel is closed for maintenance, so its impacts will be felt by all while a new bridge is planned and built.
PennDOT has already chosen the team at HDR who will design and build the replacement bridge and demolition of the old bridge structure has already begun. Swank Construction Co. will be the general contractor. Both companies were selected without bids under emergency declarations by the state and the City of Pittsburgh. HDR was involved in designing emergency repairs to the Liberty Bridge after the faire back in 2016, and Swank was the general contractor for the innovative replacement of the Shaler Street Bridge in 2019 where crews built the bridge in a nearby parking lot and moved it into place over Route 19/51 when it was ready. Although the Fern Hollow Bridge was owned by the City of Pittsburgh, PennDOT is taking the lead on its replacement because it has more experience with emergency construction. It is still too early to say how long construction could take, but the Federal Highway Administration has awarded the state a discretionary grant of $25.3 million for the project to move forward immediately.
Cyclists and pedestrians can take advantage of a few suggested alternative routes when traveling between Forbes/Beechwood on the Squirrel Hill side and Forbes/S Braddock on the Regent Square side of the now closed bridge connector. All suggested routes will add significant travel time for cyclists and pedestrians, but offer good and necessary alternatives until the bridge is reconstructed.
For cyclists who aren't familiar with the area, utilizing the Hawthorne Trail and Reynolds Street Neighborway can help riders make the connection between Regent Square, Point Breeze, and Squirrel Hill during the absence of the bridge.
Alternate bike route from Squirrel Hill side:
Left on Beechwood Boulevard, right on Wilkins, left on S Dallas, right on to the Reynolds Street Neighborway to the end of the path, then right onto the Hawthorne Trail (a car-free path passing Frick Bowling Greens) which connects to Kensington Street and right onto S Braddock toward Regent Square
Cyclists have been sharing some routes like this one that aren't too steep, usually see as few cars as possible, and are fairly quick using a thread on the Bike Pittsburgh website here. Some riders have been generously offering their recommendations along with notes about the difficulty level, speed, and more. We've included some of those recommendations herein.
Other alternative routes using trails through Homewood Cemetery and Frick Park (see maps below from Bike Pittsburgh and their community who pulled together these alternate routes):
Cyclists and pedestrians can utilize roads through Homewood Cemetery connecting S Dallas and Reynolds, though having an aerial map on-hand is suggested as the cemetery paths may be confusing
From Forbes, go south on Shady Avenue and go left onto Darlington Road, cross Beacon to Shaw Avenue, on to Beechwood Boulevard, and head into Frick Park (download their biking map with trail names here) using the Falls Ravine Trail, connecting then to the Braddock Trail, which lets out into Regent Square at a few locations or can be followed as far as S Braddock & Biddle Avenue
If traveling from further south off of Forward Ave at Beechwood Blvd or at Summerset Drive, for example, you can utilize the Firelane Trail and on to the Nine Mile Run Trail to go as far as S Braddock Ave near the off-ramp from I-376 Parkway East at Greendale/Monongahela/Allenby Ave
As BikePgh reminds us, though, be mindful of possible trail closures by following CitiParks on Twitter, as well
If you follow Oakland TMA on Twitter and Facebook, we shared the Port Authority's preliminary detour route for 61A and 61B service, but have included images from WESA denoting the 61B route below, as well. For now, the detour route circumvents the Fern Hollow Bridge collapse by using S Dallas, Penn Ave, Peebles, Savannah, Hutchinson, and on to S Braddock Ave to continue regular route.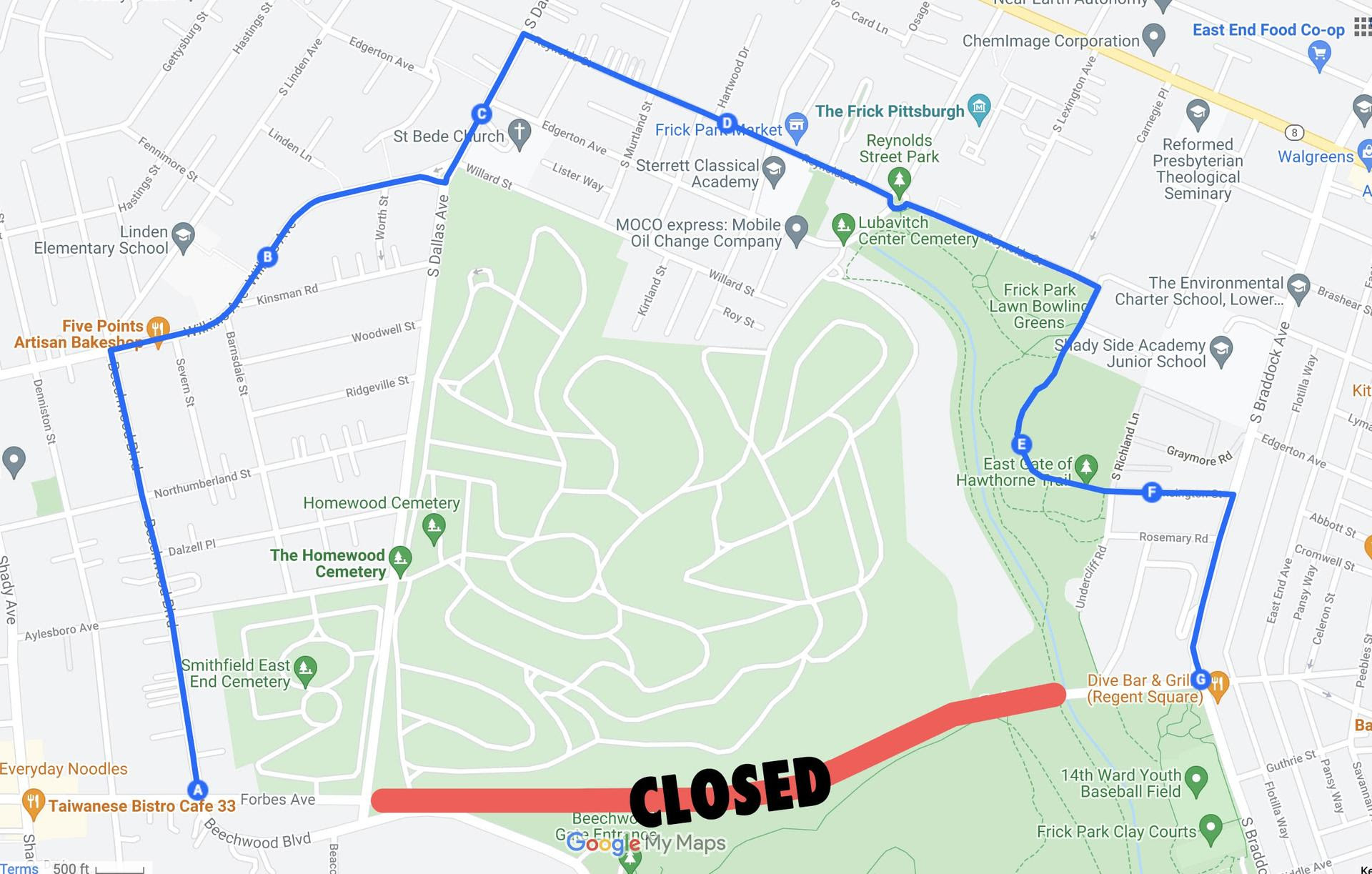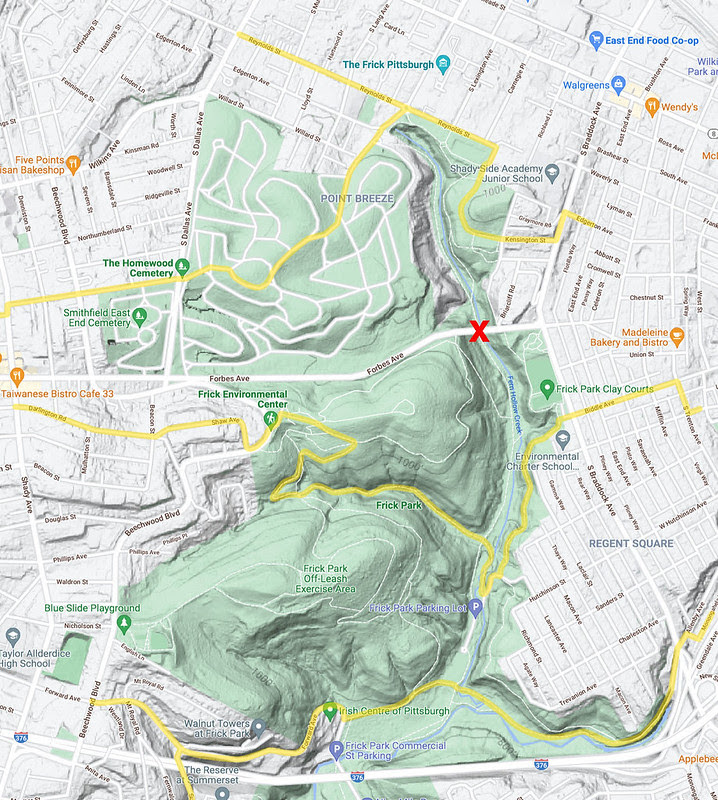 Sources: Post Gazette, Pittsburgh Business Times, Port Authority of Allegheny County, Bike Pittsburgh, WESA, Squirrel Hill Urban Coalition