Your Voice Counts - Take the Transit Survey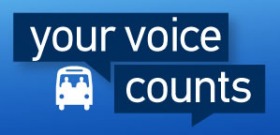 Take the Transit Survey and get a change to receive an Annual Rider Pass. With your help, we can improve regional transit to better service your lifestyle. Public transportation is more than just a way to get around – it helps breathe life into communities and allows riders to explore new areas and opportunities. Transit service affects everyone, but we want to know how it affects you! Share your opinion and help share future service in our region.
For more information visit www.yourvoicecounts-pa.com or visit the Port Authority of Allegheny County Customer Service Center at 534 Smithfield Street, Pittsburgh, PA 15222.