Weekend closure of I-376 Parkway East Exit 72A to Forbes Avenue/Oakland July 9-11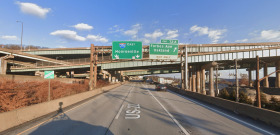 The ramp that carries traffic from eastbound (outbound) I-376 Parkway East to Oakland/Forbes Avenue (Exit 72A) will close to traffic from 9:00 p.m. Friday night continuously through 6:00 a.m. Monday morning while crews conduct expansion dam removal and replacement work.
All ramp traffic will be detoured using an approximate 9-mile route that travels past the closed exit to Edgewood/Swissvale before ultimately turning around and heading back via inbound I-376 Parkway East to the North 885/Oakland (Exit 73B) into Oakland. Schematic drawings prepared by Swank, the project contractor, can be viewed here or a Google Map prepared by OTMA can be viewed here.
Plan ahead: For example, commuters with routes originating further west of downtown may, for example, choose to exit I-376 Parkway East sooner via Exit 71A onto Grant Street to then use the Boulevard of the Allies to reach Forbes Avenue in Oakland.
Note: The Exit 72A ramp will also close between 9:00 p.m. Thursday, July 7, through 6:00 a.m. Friday, July 8 to accommodate preparatory work in advance of the continuous weekend closure.
Posted Detour
From eastbound (outbound) I-376, continue past the closed ramp
Continue through the Squirrel Hill Tunnel
Take the ramp to Edgewood/Swissvale (Exit 77)
Bear right toward Swissvale
Turn left onto Monongahela Avenue
Turn left onto South Braddock Avenue
Take the ramp toward West 376
Follow westbound (inbound) I-376 through the Squirrel Hill Tunnel
Take the ramp to North 885 Oakland (Exit 73B) to Bates Street
Turn left onto the Boulevard of the Allies (Route 885)
Turn right onto Craft Avenue
End detour
About the Project
Preservation work on two mainline Route 885 Boulevard of the Allies bridges and several ramps at the interchange are included in this $35.41 million project. Work will include bridge deck repairs and overlays, expansion dam replacements, steel superstructure and substructure repairs, bearing replacements, full painting, concrete substructure repairs, downspout replacements, drainage repairs, signing and pavement parking upgrades and other miscellaneous construction activities. Motorists will encounter short term lane closures, night and weekend closures of the ramps and Route 885 in each direction, weekend lane restrictions, and overnight directional closures of I-376 Parkway East, long-term closures of Forbes Avenue, Brady Street, and ramps at the Birmingham Bridge. Short-term and weeknight lane closures of Second Avenue are also included throughout this multi-year project.
Source: PennDOT, Oakland TMA