Rt. 885 Boulevard of the Allies Single-Lane Restrictions Weekdays from 9am-3pm Beginning August 5, 2019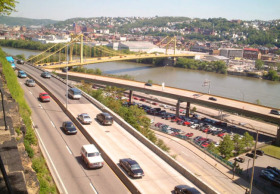 Inspection activities on the Boulevard of the Allies (Route 885) in the City of Pittsburgh, Allegheny County, began Monday, August 5 weather permitting.
Single-lane restrictions will occur from 9 a.m. to 3 p.m. weekdays for the bridge and ramp inspections. Crews from HDR Engineering and Sofis Company Inc will conduct inspection activities in the following locations:
Southbound Boulevard of the Allies (Route 885) ramp under the Birmingham Bridge toward Forbes Avenue/Oakland
Southbound Boulevard of the Allies ramp to eastbound I-376 (Parkway East)
Ramp from the Birmingham Bridge onto Forbes Avenue
Ramp from Forbes Avenue onto the Birmingham Bridge
Lane restrictions will not occur during local university move-in days.
Original image credit: Brookline Connection