Pittsburgh Marathon: Road Closures, Driving Maps, Cyclist Routes, and Spectator Locations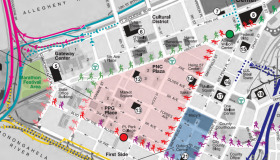 Information provided by Pittsburgh Three Rivers Marathon, Inc.
Road Closures:
Road closures throughout the City of Pittsburgh during race weekend (Friday, May 3 through Sunday, May 5) can make getting around town a little more challenging. Please exercise caution as you walk, bike, or drive in the City this weekend as volunteers, partipants, and spectators fill our streets.
Friday, May 3
Initial Downtown road closures begin May 3 at 12pm on the Boulevard of the Allies between Wood Street and Stanwix Street. This section of the Boulevard of the Allies will remain closed through Sunday, May 5.
Saturday, May 4
The 5K and Kids Marathon will begin at 7:15am and continue through 12pm in the North Side and Downtown areas. Look for road closures along this route throughout the day.
Sunday, May 5
The Marathon, Half Marathon, and Marathon Relay will result in road closures beginning overnight at 1:30am in the Downtown area and continue around the city through 2:30pm. Streets will reopen on a rolling basis throughout the day as they have been deemed cleared by City officials.
Certain sections of the City will be completely closed off to traffic all day on Sunday, May 5. Anyone in these sections of the City who will need to leave during the race should consider parking their vehicle outside of the race area.
When viewing the map, note that the pink-shaded area, for example, will be completely closed to traffic from 5:30am until 9:30am on Marathon Sunday.
Due to one-way patterns on the streets denoted in the blue-shaded area near Oxford Centre, it will beimpossible for vehicles to exit this section of Downtown between 5:30am and 11:45am.
Additional resources provided by P3R:
P3R has identified an optimal on-street bike route network during race times, as well as cycling "comfort zones" which present easy riding opportunities in most neighborhoods affected by the Marathon course.
For spectators: