PennDOT Wants to Know Your Thoughts About '511PA'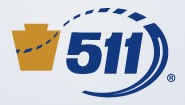 PennDOT is seeking customer feedback about the 511PA information system and encourages motorists to visit www.511pa.com to take a five-minute online survey.
Pennsylvania's 511PA system recently celebrated its one-year anniversary and PennDOT continues to look for ways to enhance the popular service. "We are proud of the progress we have made in providing travelers with more information, and we look forward to hearing suggestions from our customers to make the system even better," said PennDOT Secretary Allen D. Biehler, P.E.
The department expects to unveil an updated version of 511PA later this year that will add 630 miles of state roads to the reporting network and a 511PA feed via Twitter