Forbes Avenue closure weekend of Jan 29-30 between McKee & Atwood for UPMC crane lift work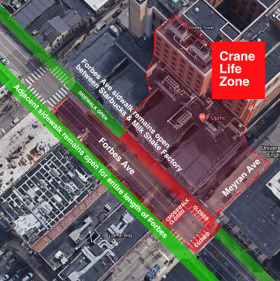 Full closure of Forbes Avenue for planned crane lifts this weekend between McKee Place & Atwood Street from early Saturday morning (2:00 a.m. January 29) through late Sunday night (11:00 p.m. January 30) with vehicle, bicycle, transit, and pedestrian detours along Forbes. Adjacent sidewalk closures will also be in place on southeast Forbes Avenue and Meyran Avenue with some access to businesses restricted during the weekend closure.
Transit riders using Port Authority routes 58, 61A, 61B, 61C, 61D, 67, 81, 83 and Westmoreland Transit route 4 may have to adjust their boarding location – see below for details.
Forbes Avenue will be closed to traffic this weekend in the heart of Oakland's central business district near UPMC's Forbes Tower & Iroquois Building between McKee Place and Atwood Street from 2:00 a.m. Saturday, January 29 through 11:00 p.m. Sunday, January 30.
All vehicle and bicycle traffic will be detoured to turn right at McKee Place. Detour signage will be posted to direct travelers to then turn left at Louisa Street, continue for three blocks, then turn left onto Atwood Street to return to Forbes (see yellow line in graphic above). Note: While Semple and Meyran Ave will remain open to local traffic, vehicle access onto Forbes Avenue will be prohibited during the closure, and both sides of the sidewalk on Meyran Avenue will be closed nearest Forbes surrounding the work zone, as well as the southeast sidewalk of Forbes Avenue near Meyran, and three of four crosswalks at the intersection, so pedestrians should plan accordingly (see below).
Truck/Bus Detour: Trucks and buses traveling on Forbes will also be detoured at McKee Place, but travel further to make a left onto Bates Street and a left onto South Bouquet Street to return to Forbes. This will impact access to some Port Authority and Westmoreland Transit stops during the weekend closure, so transit riders be advised. See notes below under "Transit Advisory" for suggestions.
Pedestrian Detour: Pedestrians will be able to continue along the opposite side of Forbes Avenue passed the work zone, and have partial access to businesses in the work zone block including Starbucks, All of Us, SportClips, and The Milk Shake Factory. Construction fencing will be in place across the sidewalk restricting further access to businesses on that southeast side of Forbes (including Roots Natural Kitchen, Argyle Studio, UPMC Eye Center, and Piada Italian Street Food.
Pedestrian Alternate Route: Pedestrians who prefer to avoid the crane lift zone entirely can opt to turn left at McKee up the slight grade for one block, right onto Fifth Avenue for three blocks, and right onto Oakland Ave to head back onto Forbes, or follow the posted vehicle detour signs (right onto McKee, left on Louisa, left on Atwood) for the flattest route around the crane lift zone.
Transit Advisory: The bus detour will route all transit vehicles down McKee Place to Bates Street and onto South Bouquet Street, so transit stops at Forbes/Meyran, Forbes/Atwood, and Forbes/Oakland will not be serviced during the closure. Port Authority route 58, 61A, 61B, 61C, 61D, 67, 81, and 83 riders can continue to use the Forbes/McKee stop though, given the detour, the next available stop along Forbes will be at Forbes/Bouquet near Pitt's Litchfield Towers & the Barco Law Building, where stops will continue as normal for 58, 61, and 67 riders. Port Authority 81 and 83 riders, however, will have to board at Forbes/McKee stop or the Forbes/Halket stop, as the Forbes/Oakland stop will be bypassed by the detour. Westmoreland Transit route 4 riders can use either the nearest Forbes/Bigelow stop or Fifth/DeSoto stop.
Motorist Detour for Emergency Room Access: Vehicles seeking the fastest route to UPMC Presbyterian Emergency Room driveway access should follow the McKee/Louisa/Atwood detour and then turn left onto Oakland Avenue where you can cross Fifth Avenue and head up DeSoto directly to the ER.
Motorist Alternate Route: Alternatively, motorists originating from the Boulevard of the Allies can instead bypass the Forbes Ave interchange and continue down the Boulevard, turning left onto Bates Street and left onto South Bouquet to reach Forbes Avenue. This route will coincide with the truck/bus detour, as well (see blue line in detour graphic above).
Again, this full closure of Forbes Avenue between McKee Place & Atwood Street will begin early Saturday morning at 2:00 a.m. and run around-the-clock through 11:00 p.m. Sunday evening. Crane lift work is scheduled to be completed at that time and Forbes Avenue will re-open to cars, trucks, vans, buses, cyclists, and pedestrians as normal at that time in advance of Monday morning commuter travel.