East Carson Street traffic, parking, and sidewalk restrictions continue through late August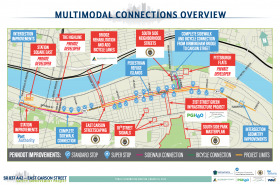 Traffic, parking, and sidewalk restrictions continue on Route 837 (East Carson Street) between Arlington Avenue & 22nd Street through late August.
Single-lane restrictions will continue on East Carson Street between Arlington Ave & 22nd St. weekdays from 7:00 a.m. to 5:30 p.m. through late August. Parking and sidewalk restrictions will also occur between 5th Street and 22nd Street around-the-clock.
Traffic will be maintained in both directions throughout the work zone. Some parking spaces may be temporarily blocked in various locations as needed as crews from Golden Triangle Construction continue to complete work related to the $16.3 million project designed to:
Improve safety throughout the corridor (which represents the highest pedestrian crash location in the region),
Improve multimodal mobility by improving pedestrian and bicycle movements, transit accommodations, and pavement surface conditions
Reduce congestion through optimized signal operations along the corridor
The project features enhancements including road surface milling and resurfacing, signage and signal upgrades, concrete pavement patching, drainage, guide rail, curb extensions, ADA curb ramps, "No Turn on Red" signs without time restrictions, high visibility crosswalks, pedestrian countdown signals, raised medians at 19th St and 22nd St, new traffic signals/phasing, and more.
According to data released by PennDOT during a public information meeting held back in March 2018, the project is expected to achieve opening year benefits including:
Percentage of Crashes Reduced: 32%*
Vehicle hours of delay reduced: 271,981**
Reduction in stops along the corridor: 43,139,029**
Reduction in fuel usage: 218,023**
Reduction in CO, VOC, and NOx emissions: 12,638 kg**
* In a seven year period between 2007-2014, there were 593 reported crashes (or an average of 74 crashes per year) along the corridor. This reduction in crashes were calculated following Highway Safety Manual (HSM) methodologies – a tool used to quantify safety performance in terms of the number of expected crashes based on roadway characteristics, traffic volume, and historical crash history of similar roadways using a statistically rigorous approach.
** Reductions in vehicle hours of delay, stops, fuel usage, and emissions (Measures of Effectiveness) are computed from VISSIM traffic modeling software using opening year traffic volumes with current and proposed roadway geometric alignments to determine the expected benefits.
For a look at the project and to hear comments from PennDOT District 11 Executive Cheryl Moon-Siriani when the project began, check out KDKA's coverage that aired early in the project on December 12, 2019, or the Pittsburgh Post-Gazette's coverage published in May 2020.
The overall project along the 2.5 mile stretch of East Carson Street is expected to be completed in Spring 2022, though is subject to change.
According to PennDOT, work on this project will continue to be in accordance with Centers for Disease Control and state Department of Health guidance as well as a project-specific COVID-19 safety plan, which includes protocols for social distancing, use of face coverings, personal and job-site cleaning protocols, management of entries to the jobsite, and relevant training.
To keep travelers informed, PennDOT has created an email distribution list related to this project. Sign up by emailing ymanyisha@pa.gov with the subject line: "Subscribe – East Carson Street".
# # #
EDIT: An earlier release of this information mistakenly referencing the work as part of a "$161.3 million project" has been corrected.