City (DOMI) and PennDOT Begin Safety Improvements along East Carson Street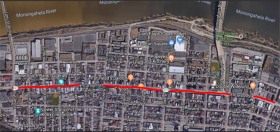 The City Department of Mobility and Infrastructure (DOMI) has contracted limited streetscaping work to be done from S. 10th to S. 25th Streets along East Carson Street in conjunction with scheduled pedestrian safety improvements to be performed by PennDOT.
The $3,000,000 project will provide aesthetic consistency along the East Carson corridor between 10th Street and 25th Street with the streetscaping elements that were constructed as part of the South Side Works development.
Hours of operation will be Monday thru Friday, 7am-5pm. Construction will occur 2-3 blocks at a time and NO PARKING signs will be posted 24 hours in advance of work commencing in any area.
If vehicles are parked in the work zone that has been posted for that day, the vehicle will be towed. Expect traffic delays.
The DOMI streetscaping improvements will consist of the following:
Street and pedestrian level lighting
Street trees and hanging baskets
Other incidentals, including exposed aggregate concrete restoration from behind the curb to the back edge of any tree pits, replacement of signage, and removal of old light fixtures
DOMI timeline:
Construction start: March 18, 2019
Construction complete: November 20, 2019
Tree planting: May 2020
The PennDOT State Route 837 East Carson Street Safety Improvement Project pedestrian safety improvements will consist of the following:
Pedestrian bump outs and ADA upgrades at intersections
New pavement markings and signage
Milling and resurfacing of roadway
PennDOT timeline:
Let Date: April 2019
Construction start: July 2019
Construction complete: June 2020
Tree planting: June 2020
A. Merante Contracting, Inc. is the Project Contractor.
Email questions or comments to domi.eastcarson@pittsburghpa.gov.