2021 Great Race: Street closures and congestion expected Sunday, September 26 in Oakland, Squirrel Hill & Downtown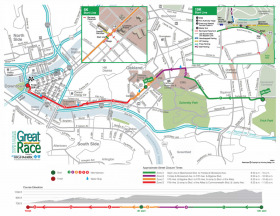 The City of Pittsburgh's annual Great Race will take place on Sunday, September 26 with a 5K Run & Fitness Walk beginning at 8:00 a.m. at the corner of Fifth Avenue and Atwood Street in Oakland, and the 10K Run beginning at 9:30 a.m. near the corner of Beechwood Blvd. and S Dallas Ave in Frick Park in Squirrel Hill.
Congestion and Closures
Barricades will be set up throughout the city to clear the race route which stretches from Frick Park in Squirrel Hill along Forbes Avenue to Morewoood Avenue on Carnegie Mellon University's campus, then onto Fifth Avenue through Oakland, and onto the Boulevard of the Allies and into downtown before finishing at Point State Park.
Approximate closure times are as follows:
Zone A: Beechwood Blvd to intersection of Forbes & Morewood
Closed from approximately 8:30 a.m. to 10:00 a.m.
Zone B: Forbes & Morewood to intersection of Fifth & Bigelow Blvd
Closed from approximately 8:30 a.m. to 10:00 a.m.
Zone C: Fifth & Bigelow to Fifth & the ramp to the Blvd of the Allies
Closed from approximately 6:30 a.m. to 10:45 a.m.
Zone D: Fifth & Blvd of the Allies to Commonwealth Place & Liberty Ave
Closed from approximately 6:30 a.m. to 11:00 a.m.
In Oakland specifically, travelers and residents can expect to see barricades on Fifth Ave, Oakland Ave, Atwood St, and DeSoto St and crowds gathered near mile marker 3 and the 5K starting line. See map for detail.
In Squirrel Hill, travel will be restricted around the starting line on Beechwood Blvd with barricades prohibiting vehicle access at Beechwood & S Dallas, Beechwood & the Forbes connector, Beechwood & Darlington, and Beacon & Shaw. See map for detail.
Shuttle Buses
Shuttle buses will run from downtown between 6:15-7:15 a.m. and the line to board shuttles will begin on Liberty Ave at Stanwix St near the Gateway T Station for participants running the 5K Run & Fitness Walk. Shuttles will run from the same location between 7:15-8:45 a.m. for participants running the 10K Run. After 9:00 a.m., shuttles will be available to take runners from Point State Park back to the start lines, with the last shuttle leaving at 11:30 a.m.
Source: City of Pittsburgh & Great Race