U.S. Senators sent a letter to USDOT urging the agency to ensure investments are prioritized for seniors and the disabled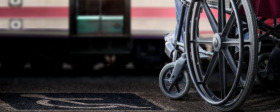 For context, check out this article adapted for Mobility Weekly reviewing the over 46 million people in the United States underserved by traditional forms of public transit today – the 1 in 7 adults in the U.S. with disabilities affecting mobility. Key points mentioned in the article include:
Women and people of color make up a disproportionate number
People with disabilities are twice as likely to live in poverty
Limited transportation options compound their restricted access to quality health care, education, and jobs
A group of U.S. senators recently sent a letter to U.S. Department of Transportation Secretary Pete Buttigieg urging the agency to ensure investments are prioritized for seniors and the disabled. The senators urge the use of Infrastructure Investment and Jobs Act (IIJA) funds to start construction projects compliant with the Americans with Disabilities Act (ADA) and the Rehabilitation Act; and that employers issued IIJA funds must commit to the goal of employing at least 7% of their workforce with people who have disabilities. They've also asked that contracts, grants, and cooperative agreements include a provision that recipients consult with local disability stakeholders to ensure projects result in accessible features.
Among the senators who signed the letter are: Richard Blumenthal (D-CT), Bob Casey (D-PA), Tammy Duckworth (D-IL), Chris Van Hollen (D-MD), and Ed Markey (D-MA). They've given Buttigieg a deadline of May 16 to respond.
This letter from the senators follows another sent in February from six leading national disability rights organizations praising the Infrastructure Investment and Jobs Act while expressing disappointment that Congress did not include several programs in the IIJA that are important to the disability and underserved communities, including the Disability Access to Transportation Act (an expansion of the current ADA).
The letter offers two specific recommendations that these organizations say could have "profound and lasting results, especially for those with disabilities, seniors and underserved populations." The first suggests funding innovation that increases and improves accessible mobility. The second advocates prioritizing actions that would make existing infrastructure more accessible. The letter requests to consider funding projects that "provide accessible, on-demand transit (...) that take advantage of the latest routing, dispatch and app-based booking technologies" – something we covered in a previous issue of our Transportation News Update.