Port Authority now averaging over 110,000 weekdays rides, seeing biggest increase in ridership since before the pandemic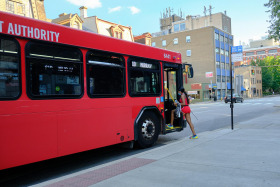 The transit agency is now averaging over 110,000 weekdays rides for the first time since March 2020 just as the pandemic shutdowns began. For buses in particular, ridership saw a 25% increase from August to September alone. For light rail, the increase was only 13% for weekday rides.
Despite the significant increases in ridership recently reported, these numbers are still significantly lower than they were prior to the pandemic – with weekday ridership for buses still 50% lower than pre-pandemic numbers, weekend ridership still 30% lower, and light rail weekday ridership still more than 70% below pre-pandemic levels.
The agency also continues to face staffing challenges and is still actively looking to hire drivers and maintenance staff as ridership and the demands for capacity are expected to continue increasing in the year ahead.
"Ridership has come a long way since March 2020, but we still have a long way to go," Port Authority CEO Katharine Kelleman told the Pittsburgh Business Times. "What's been made clear is the important role public transit plays in our region, and we're thankful to those who have stayed with us, those who've come back to us, and those who will be riding with us again soon."
In September, Transportation Secretary Pete Buttigieg announced that – as part of the American Rescue Plan – the Port Authority was awarded $216 million in federal grant funds to aid in keeping operations going.