Port Authority looks to diversify funding sources as ridership remains low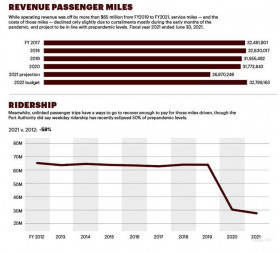 For the Port Authority, the annual task of delivering a balanced budget before the Board has grown in difficulty since the onset of the pandemic – with systemwide ridership figures still hovering at just half of what they were before March 2020 as many commuters remain at home amid sustained hybrid working arrangements. Meanwhile, operational costs like vehicle maintenance, fuel prices, and construction projects have only continued to rise.
The sustained reduction in ridership is leaving its mark on the budget and requiring that overall funding comes from more diversified sources, says Port Authority CEO Katharine Kelleman.
For its fiscal year 2022 budget (which runs through June 30), the Port Authority has allocated a 12.2% increase in total expenses, and is budget $101 million in total operating income – an increase of 158% from the $39 million budgeted the year before. That operating income combined with $288 million from government assistance funding and $104 million from grants brings its total budgeted income to $493 million.
Thanks to detailed reporting from the Pittsburgh Business Times, read more about the Port Authority's plans for a lack of revenue if ridership doesn't return.