Pittsburgh receives $1.4 million to advance pedestrian wayfinding project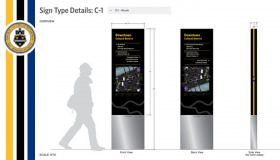 This week, Mayor Peduto submitted a resolution to City Council to accept $1.4 million in funding for the Pittsburgh Pedestrian Wayfinding Project through a reimbursement agreement with PennDOT District 11 for funding provided by the SPC Transportation Alternatives Set-Aside Program.
The wayfinding project establishes a world-class pedestrian wayfinding system designed to highlight key landmarks, reinforce a sense of place, and make it easier for residents and visitors to navigate four key business districts – including Downtown, Oakland, the Northside, and the North Shore initially. The system may also be applied to other neighborhoods in future phases.
The project has been fully designed and includes over 50 kiosks and 100 directional signs distributed throughout the four neighborhoods. It is scheduled to be put out to bid in summer 2022 with installation expected to begin in fall 2022.
The development of the pedestrian wayfinding system was formulated through a collaboration between the City of Pittsburgh, Pittsburgh Downtown Partnership, Oakland Business Improvement District, Oakland Transportation Management Association, Walk Ride Northside, Northside Cultural Collaborative, Southwestern Pennsylvania Commission (SPC), University of Pittsburgh, and UPMC. The project has engaged thousands of residents and stakeholders throughout the extensive development phases. Since its inception, the group has raised over $700,000 in private funds for design creation and community engagement. Collaborative stakeholder workshops, presentations, site visits, and art commission reviews have bee held to date, with visioning, analysis, strategic development, sign design, and programming stages building consensus among the various institutions citywide and from each neighborhood.