Are mobility hubs the future of urban transportation?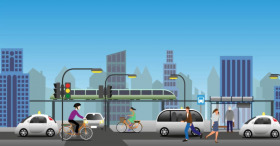 Check out Urbanism Next's hour-long discussion on Mobility Hubs 2.0 here, where they've brought together experts from Pittsburgh and Columbus to discuss the lessons learned, understand what has worked, what hasn't, and the next steps they're planning to make their mobility hubs even better going forward.
As noted by Urbanism Next in March 2022, communities across the country and around the world are planning mobility hubs, but to date, very few are installed and running in cities. Mobility hubs take a lot of negotiation between private sector companies offering services and the city, as well as coordination between city departments, adjacent property owners, transit agencies, and community stakeholders.
Pittsburgh's own Tosh Chambers (Move PGH) and Jeffrey Kupko (Michael Baker International) are featured in the discussion.
Mobility hubs like those here in Pittsburgh have been launched in other cities like Boston and Minneapolis, as well, and are often touted in transportation circles as a foundational concept for where transportation should be headed. As cities reimagine transportation and transit, they're turning toward innovative attempts to bring multiple modes together, with the essential aim of making it easier for residents and others to choose a mode of travel other than the single-occupancy vehicle.
According to this article from Government Technology FutureStructure, transportation nodes serving as the meeting point for various transportation types are helping to accommodate the many mobility needs of city residents. They also serve as opportunities for stakeholders to collaborate.
In this article, deputy program manager for Smart Columbus, Andy Wolpert, reflects on the evolution of mobility hubs in his city and how they represented a clear deviation from how transportation had always been conceived. Much like in Pittsburgh years ago, transit operated independently from other systems in Columbus, leaving park-and-ride operations or private-sector mobility providers like scooters as distinct platforms accessed in distinct locations. According to Wolpert, mobility hubs "solve that first-mile, last-mile challenge".
As reported by the same source in August 2021: In Pittsburgh, transportation officials were given a shoestring budget of $300,000 to deploy mobility hubs. And since these need to serve as places to recharge scooters, bikes and even electric vehicles, they need to be connected to the electric grid, which can quickly eat through the budget if trenching is involved, explained Tosh Chambers, senior program director for Move PGH.
Noted other barriers to these types of projects include the coordination and collaboration it takes to get so many stakeholders to "play nicely" as Wolpert explains they've heard from other mobility providers, from a national level, they want to create their own type of system, their own type of hubs, but as Wolpert and other advocates say, "mobility hubs are a good fit for busy corridors the city would like to reimagine from a land use and mobility perspective, so yes, there's an opportunity there."