Pedestrian Safety Action Plan implementation kicks off on Wednesday, June 16 with DOMI virtual event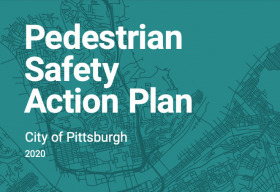 The Department of Mobility and Infrastructure hosts the City's first Pedestrian Safety Action Plan virtual event tomorrow 6/16 from 12pm-1pm to introduce plan goals/vision and kick-off implementation. Register at https://bit.ly/3cH7OTs and learn more about the goals and actionable steps of the Pedestrian Safety Action Plan on the City's PSAP website.
According to DOMI Director Karina Ricks, "The Plan is a roadmap that provides a holistic approach for implementation of strategies and actions to improve safety and access for people walking in the city."
Developed through a collaborative effort by City of Pittsburgh, the Federal Highway Administration, and a core group of local stakeholders, the Plan identifies:
Critical pedestrian safety issues,
Locations with higher risk for pedestrian crashes,
Specific actions that DOMI will undertake, and
Metrics for monitoring performance over time
The entire Pedestrian Safety Action Plan is available in PDF format from the City's website.
Thank you to Mayor Bill Peduto for your commitment to pedestrian safety and Complete Streets!