Micromobility here to stay despite COVID setbacks: NACTO shows shared bikes and e-scooter trips up 60% in 2019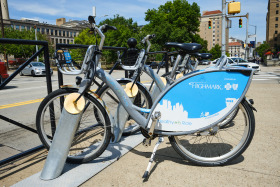 This story contains excerpts from articles published by NACTO and Smart Cities Dive.
New ridership figures released by the National Association of City Transpaortation Officials (NACTO) in late August show that micromobility transportation solutions – from docked bike share systems to dockless bike and scooters – has expanded dramatically over the last decade with over 136 million trips taken on shared bikes and scooters across the U.S. in 2019.
After ridership doubled from 2017 to 2018, ridership continued to rise in 2019 by 60%, suggesting that micromobility systems are growing in popularity and utility, filling important gaps in transportation networks and playing a vital role in cities across America. Shared micromobility trips are often short, averaging just over 11 minutes and under 1.5 miles per trip in 2019, but play a major role in reducing congestion and improving air quality. Given that 35% of all U.S. car trips are under 2 miles, these shared micromobility trips, in essence, replaced cars or provided access that was previously time-consuming by foot, or difficult to make by transit. Shifting even just a small percentage of these short-distance trips that were previously made by car can play a major role in supporting cities' climate, safety, and equity goals – great news for cities that invest in multimodal transportation and alternatives to the single occupant vehicle.
Not only do these micromobility systems contribute to reduced carbon emissions, they increase access by helping to reduce barriers to access for low-income or underserved communities.
Following the nationwide lockdowns and statewide restrictions as a result of the pandemic in 2020, trips on every mode of transportation dropped sharply by 70% nationwide. Interestingly, even as many bike and scooter share systems shuttered completely, the eight largest bike share systems saw only a 44% drop in ridership in March and April, and have largely rebounded. In New York City, for example, the Citi Bike program was more heavily-used in July 2020 than it was the year prior despite most white-collar workers not actively commuting to the office every day.
What's clear is that, while the future is uncertain and continues to evolve, shared micromobility solutions are here to stay. Short trips in cities are important, and these systems fill a much-needed gap by extending the reaech of transit and making cities more accessible overall.
For more on how to use shared micromobility to meet city goals, see the wealth of resources available through NACTO's Bike Share & Shared Micromobility Initiative and from the Better Bike Share Partnership, or read this year's complete shared micromobility ridership report from NACTO for a lot more detail.