Grab Your Bus Pass, Bike, or Walking Shoes: 'National Week Without Driving' Challenges Drivers to Think Beyond Their Car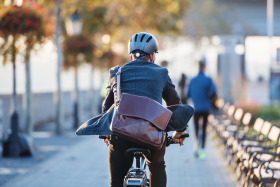 The National Week Without Driving is October 2-8 aiming to help us all better understand the barriers faced by those without cars. Join your community by ditching your car and taking part this week by choosing to ride transit, walk, or bike wherever you're traveling—whether to work, school, running errands, or heading out for other activities.
From America Walks: People without a car or who are unable to drive should be able to get to where they need to go safely and effectively. But every day, Americans who can't drive (approximately 25% of the population) face significant barriers to mobility such as inadequate sidewalks, poor transit, lack of connectivity and dangerous roads. The needs of non-drivers are too-often disregarded in transportation infrastructure and policies. Our goal should be a transportation system designed to support all individuals, regardless of ability, age, or income, that will strengthen our communities and enhance our quality of life.
In 2020, Disability Mobility Initiative began documenting the experiences of non-drivers in the State of Washington. In 2021 and 2022, they challenged elected officials and other decision-makers to a Week Without Driving—with profound effects on thoes who participated. For 2023, Disability Mobility Initiative has partnered with America Walks to take Week Without Driving national.
America Walks urges elected officials, public officials, transportation professionals, organizations, advocates, and individuals to participate in the National Week Without Driving. America Walks wants those who have the option to drive regularly to better understand the barriers and challenges that non-drivers face when trying to move safely in their communities, and work with non-drivers to create better communities for all.
# # #
"Most people with disabilities don't own their own cars or drive. They rely on pedestrian access, public transportation and rides with others," said Northeast Ohio Coalition of Disability Organizers (NOCDO) co-chair Beth Glas. "A Week Without Driving is an opportunity to experience the daily challenges and joys of using our sidewalks and crosswalks, walking to and from businesses and utilizing public transit."
# # #
Going a single week without getting in a car shouldn't be difficult. In countless car-dependent American cities, though, it's all but unthinkable. That's part of why America Walks has launched the National Week Without Driving Challenge on October 2 with the goal of helping everyone understand the barriers faced by non-motorists (particularly if they have disabilities tha tmake driving impossible.)
Streetsblog sat down with former Sierra Club President and Princeton University visiting professor Ramón Cruz to talk about why he's supporting the challenge, and why he's challenging political leaders and environmentalists to experience the world beyond the windshield. Read his interview here to learn why he's supporting the campaign; what he'd say to people who are considering the campaign in cities that don't make it easy to not-drive; his thoughts on electric vehicles, and more.
# # #
According to the Census Bureau in 2020, 53.6% of workers in Pittsburgh drove alone to work, 16.9% use public transit, and 10.2% walk—followed by 9.03% who work from home, 7.3% who carpool, and 1.6% who bike. That's over 60% of Pittsburgh workforce who utilize the automobile as their primary mode of transportation whether driving alone or carpooling with others.
In Pittsburgh, 13.3% of households do not own a car (approximately 20,000 households) compared to the national average of just 4.2% of households who do not own a car. Comparatively in Pittsburgh, 36.9% of households who own one car, 36.4% who own two, 10.7% who own three, 1.8% who own four, and 0.9% who own five or more cars.
So during #NationalWeekWithoutDriving, we're calling on the 87% of households with at least one car to try experiencing life without one! Depending on your neighborhood and commute, of course, this challenge may be easier for some than others, but for the large portion of Pittsburgh residents who live on or near a transit line, or who's commute to work/school is only a few miles from one community to the next, traveling this week without using your car is definitely doable!
If you do, please let us know about your experience. We'd love to hear your story.
If you're heading into, from, or through Oakland, we've got a few resources for you that could help make the transition easier, including our Multimodal Resources Map which plots the location of a lot of multimodal transportation resources and providers links to other valuable information, so check it out, and feel free to reach out to us at info@otma-pgh.org if you're interseted in participating in the challenge, but don't know where to start!