Bike to Work Week 2023: PennDOT discusses benefits of biking and encourages bicycle safety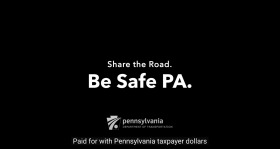 The Pennsylvania Departments of Transportation (PennDOT) and Conservation and Natural Resources (DCNR), along with York County Officials, held an event today to encourage safe behaviors for bicyclists and drivers as part of National Bicycle Safety Month and Bike to Work Week, which runs through May 21.
"Safety is a shared responsibility and even one fatality is one too many," said PennDOT Statewide Bicycle and Pedestrian Coordinator Trish Meek. "Bicyclists on our roadways have the same rights and responsibilities as motor vehicles, but unfortunately, they are more vulnerable on the road. Both motorists and bicyclists must look out for each other and work together to reduce crashes and fatalities.
According to PennDOT data, last year there were 798 crashes involving at least one bicyclist, resulting in 15 fatalities and 91 suspected serious injuries.
In Pennsylvania, a bicycle is considered a vehicle, and, by law, bicyclists must obey all the rules of the road, including but not limited to, riding on the right side of the road, abiding by traffic signs and signals, and using turn signals. Additionally, bicyclists may operate on a shoulder or berm, but are not required to do so.
Bicyclists may travel at less than the posted minimum speed, resulting in being passed by motorists. Drivers are reminded that they must allow at least four feet between their vehicle and the bicycle when carefully passing at a reduced speed.
Motorists should check for bicyclists in mirrors and blind spots before changing lanes and at intersections, as bicycles are small and may be difficult to see. Pennsylvania law says no person shall open any door on a motor vehicle unless it is safe and can be done without interfering with traffic flow – this includes bicyclists.
The agencies strongly recommend all bicyclists wear helmets every time they ride. Pennsylvania law requires all bicyclists under the age of 12 to wear a properly fitted helmet when riding a bicycle. Anyone under the age of 12 must wear a helmet when riding a bicycle. This applies to anyone operating the bicycle, riding as a passenger, or riding in an attached restraining seat or trailer.
"Bicycling offers many benefits for riders," said Meek. "Riding a bike is a healthy, accessible, and affordable mode of transportation. It offers a reduced environmental footprint with no fuel expenses or parking fees, low maintenance costs, and provides a cardiovascular workout."
"Bicycling, whether it be for fun, fitness, or function, is good for everyone," said Pennsylvania Director of Outdoor Recreation Nathan Reigner. "We know that biking helps us be healthy, happy, and more closely connected to our neighbors and communities. We also know that high-quality and integrated bicycle infrastructure makes our communities economically competitive. Right here York County has made bicycle trails and outdoor infrastructure core components of their economic development approach – and it is paying off with a growing number of trail-friendly businesses and new visitors and residents attracted to the region."
PennDOT's Active Transportation Plan outlines a vision and framework for improving conditions for walking and bicycling across Pennsylvania communities. The plan, developed in 2019, is being implemented by coordinating with planning regions and stakeholders across the state.
"Our vision is a complete and connected bike network throughout York County," said York County Planning Commission Transportation Planning Chief Mike Pritchard. "We are building upon decades of success with the York County Heritage Rail Trail and the Broad Street Greenway by strategically investing in new bicycle infrastructure such as the King Street Cycletrack and the Hanover Trolley Trail. As we continue this work, York County residents will have more options to safely travel to their everyday destinations by biking or walking."
Pennsylvania has over 2,400 miles of BicyclePA routes and an increasing focus on improving bicycling safety and access. For more information, view the Pennsylvania Bicycle Routes Map and the trails options in Pennsylvania.
For more information on bicycle safety, visit www.penndot.pa.gov/safety.