Port Authority T Service Extended from Downtown to North Shore Starting March 25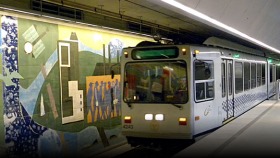 Watch the video below to see the new T stations, ride through the tunnel and enjoy a trip on Port Authority of Allegheny County's new light rail extension between Downtown Pittsburgh and the North Shore. Service is scheduled to start on March 25, 2012, extending the 25-mile T light rail system beyond Downtown to the developing North Shore area within the city's North Side. Note: This is time lapse video
Video and information provided courtesy of TPlus.org.
Thanks to two funding agreements, the Free Fare Zone in Downtown will be extended to include the new T stations on the North Shore.
Allegheny Station fares will be free thanks to an agreement with the Steelers and Rivers Casino. Riders using the North Side Station - located under the West General Robinson Street Garage - will enjoy free fares courtesy of the Stadium Authority and Alco Parking. The new Gateway Center Station also will open on March 25.
Check www.PortAuthority.org throughout March for more details.