Two major construction projects in Oakland create travel restrictions at Fifth/DeSoto through 2026 (UPMC) & O'Hara through 2024 (Pitt)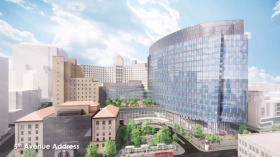 University of Pittsburgh Campus Recreation & Wellness Center (O'Hara/DeSoto):
People traveling in the area of the new O'Hara Street Campus Recreation & Wellness Center project will see new construction fencing installed at the top of DeSoto St in January & March 2022 – adding to existing fencing already in place along O'Hara Street between Thackeray & DeSoto. New pedestrian pathways will be implemented as through Peterson Events Center and along O'Hara Street as construction continues. No road closures are anticipated anticipatedfor the project through June 2022.
The project is currently in the third phase of construction – which began with the demolition of the old LRDC Building from August 2021 through January 2022. Construction is expected to begin in spring 2022 and the new center is anticipated to open in fall 2024.
UPMC Presbyterian New Bed Tower Building (Fifth/DeSoto):
The proposed new Bed Tower building being constructed at UPMC Presbyterian hospital along Fifth Avenue & DeSoto Street will create new traffic restrictions in the area, however. Slated to begin in July 2022 and continue through May 2026, a single-lane closure will be in place on DeSoto Street resulting in one-way traffic from Fifth Avenue only, and a single-lane closure on the north side (hospital side) of Fifth Avenue throughout the project.
During preliminary meetings, the project team has demonstrated that three lanes of traffic will be maintained on Fifth Avenue through the work zone and the contraflow bus lane will not be impacted. Pedestrians can expect to be restricted on the north side of Fifth Avenue and directed to cross at Lothrop or DeSoto to continue along Fifth Avenue.
For transit riders, the heavily utilized Atwood Station will remain open (with minor staging impacts given its proximity to new construction fencing to be installed at the Fifth & DeSoto site).
Constructed on the former site of Children's Hospital in front of UPMC Presbyterian, the proposed new 17-story, 288-foot tall, 636-bed tower on Fifth Avenue will serve intensive care, step-down, and discharge patients, and will also include a 450-car garage and an entry garden outside, plus new retail, pharmacy, guest fitness area, family respite area, and more.
About the UPMC project, Bryan Cannon, design principal at HGA Architects, said "We are creating what we call a lifestyle village – three floors of accessible programming. The idea is that the hospital will not be read or experienced as a separate place but as a building that's strongly connected to and accessible to the community."
UPMC will present at another Oakland community meeting on January 25, 2022 to answer questions from residents and discuss how the Bed Tower will benefit the community. Specific details on upcoming restrictions will be shared when as the project moves closer to its start date.