Full closure of Boundary Street begins Monday, January 11 for Riazzi Substation project in Oakland's Panther Hollow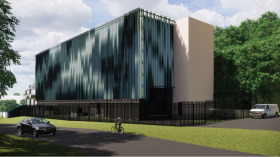 Riazzi Substation construction project near intersection of Boundary Street & Joncaire Street in Oakland enters final phase of construction requiring full closure of Boundary Street between Joncaire & Filmore from Monday, January 11 until March 31.
Despite Duquesne Light's (DLC) best efforts to avoid this full closure, it is required for the safety of the general public after subsurface obstructions were discovered in the roadway which have warranted the redesign of the below-grade portion of the substation project.
The project team utilized four methods of underground investigation to provide confidence in the original design, but the subsurface reality that was discovered after excavation began will require much more extensive work in order to avoid conflicts with the other underground utility lines. DLC contractors will now need to trench the street to a width that is wider than normal during the installation of their new facilities.
In evaluating the safety of the work site against the inconvenience of this extended closure, DLC has prioritized safety while being mindful to minimize the duration of the traffic restriction to the best of their ability as the closure will restrict options for residents and commuters who regularly utilize Boundary Street as a main travel artery. DLC is in the process of notifying neighbors in Panther Hollow and the immediate area of this upcoming restriction, and is coordinating with businesses who require limited access to the boiler plant and rear access to several other facilities located in the work zone just south of Filmore Street.
DLC has worked with contractors to streamline the logistics of the unexpected project work so that it can be completed as quickly and safely as possible.
The final restriction plan has been approved by the City of Pittsburgh's Department of Mobility and Infrastructure to include the full two-lane closure of Boundary Street with traffic routed along Joncaire Street during that time.
DLC has communicated that this closure is an unfortunate circumstance and was never their preferred outcome (as the original plan involved only a single-lane restriction during this phase of the project) and understands that this more restrictive closure will be an inconvenience to residents of Panther Hollow, but says they are confident that prioritizing safety by preventing travel along the excavated roadway is the right approach.
Note: OTMA is not involved in this work. Please direct questions or comments to RiazziSubstation@duqlight.com or visit the project website for more information.