PennDOT opens new Driver License/REAL ID Center in Jeannette, replacing Greensburg facility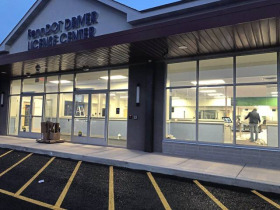 The new, state-of-the-art Jeannette location replaces the Greensburg Driver License Center which closed for driver licensing services last week.
Located at 1100 Lowry Avenue, Jeannette, PA (Westmoreland County) – just 7 miles from the Greensburg site it has replaced – the new facility will operate Tuesday through Saturday from 8:30 a.m. to 4:15 p.m., with early hours on Wednesday and Thursday between 8:30 a.m. and 10:30 a.m. set as designated times for priority to customers 60 years or older. The facility will be closed on Sundays and Mondays.
The Lowry Avenue location has been built to federal facility security standards for the over-the-counter issuance of REAL ID. The facility is conveniently located to serve the needs of area customers and offers ample parking and a large customer waiting area to accommodate social distancing.
Additionally, the new site includes a variety of advancements, both in terms of service enhancements for customers and in environmentally friendly green technology. It is approximately 8,500 square feet and will serve customers at seven driver licensing workstations and three photo workstations. It is equipped with all the necessary 21st-century technology, including enhanced data communication lines; as well as the capability to add new technology as it becomes available. PennDOT will also provide free wi-fi for its customers.
Green building components of the new facility include LED lights with energy-saving controls, high-efficiency restroom facilities with "WaterSense" faucets, a state-of-the-art HVAC system and expanded recycling options for both customers and staff. These items allow the agency to promote responsible environmental stewardship while ultimately saving important taxpayer dollars.
The Greensburg Driver License Center, 770 E. Pittsburgh St., Greensburg, will no longer provide driver licensing services after Saturday, January 9. The Greensburg Photo Center will remain temporarily open for the next few months for photo services during the transition of locations. Customers in need of a photo must have a current camera card to obtain photo services. Customers without camera cards seeking renewal of their non-commercial license or ID should renew online or by mail to avoid an unnecessary visit to the location.
Customers with scheduled non-commercial road tests are being notified that their testing has been moved to the Jeannette location. Commercial road tests will continue to be administered by appointment only at the Greensburg location for a limited time during the transition.
During the transition the hours of operation for the Greensburg Photo Center will be Tuesday through Saturday, 8:30 AM to 4:15 PM., with Wednesday and Thursday between 8:30 AM and 10:30 AM set as designated times for priority to customers 60 years or older.
In all open PennDOT driver license and photo license centers, the following COVID-19 safety protocols are in place:
Customers are required to wear masks while in the facility;
Seating has been reduced at all locations to make social distancing easier to maintain six feet distances between each seat;
The number of customers is limited to correspond with available counter stations and available seating in the customer waiting area only;
Admittance to the facility is limited to only the customer requiring service, unless assistance is needed by an accompanying person;
Plexiglass sneeze guards have been installed at each counter to protect customers and employees;
Cleaning protocols have been enhanced to sanitize facilities on an ongoing basis; and
Markings on floors have been added to assist with social distancing along with signage to communicate special instructions to customers.
For a full list of driver license centers and their services, please visit the PennDOT Driver and Vehicle Services website.
Additionally, Driver and vehicle online services are available 24 hours a day, seven days a week and include driver's license, photo ID and vehicle registration renewals; driver-history services; changes of address; driver license and vehicle registration restoration letters; ability to pay driver license or vehicle insurance restoration fee; driver license and photo ID duplicates; and driver exam scheduling. There are no additional fees for using online services.
Follow PennDOT on Twitter at www.twitter.com/PennDOTNews, or on Facebook at www.facebook.com/PennsylvaniaDepartmentofTransportation.