Joncaire Street Steps Closed While Under Construction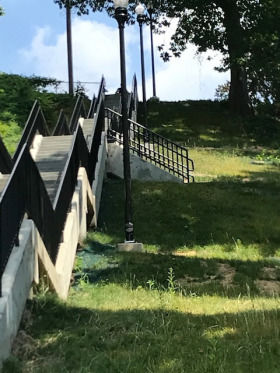 The steps closed on Monday, October 9, 2017. Signage has been posted on both the top and bottom of the steps.
In late January 2018, Clearwater, the Contractor, formed the top, bottom, and path landings and placed concrete. Minimal work was done in February while the railing and light poles were fabricated off-site.
There will be no closures of Joncaire Street. Flaggers will be necessary, at times, to maintain one lane of alternating traffic.
All day work is anticipated.
The estimated completion is Summer 2018. Click HERE to view the project's traffic control plans which includes a pedestrian detour.
Please Note: Joncaire Steps are CLOSED while under construction. Trespassing is Not Safe OR Permitted and could result in injury or financial penalties.
For any questions please contact OTMA at info@otma-pgh.org or (412) 687-4505.
To read more about the History of the project, click HERE.
UPDATE: Clearwater, the contractor, remobilized the week of 9/17/18 to complete the "punchlist" items. Work to include but not limited to:
Straightening the railing in the field.
Exposing 2 IN of each individual rail post.
This work could take up to 6 weeks.