Don't miss the next Bus Rapid Transit community meeting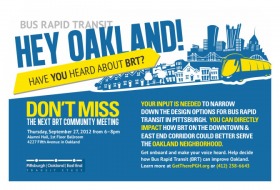 Hey Oakland! Have you heard about Bus Rapid Transit (BRT)?
Don't miss the next BRT Community Meeting, Thursday, September 27, 2012 from 6-8pm in the 1st Floor Ballroom of Alumni Hall (4227 Fifth Avenue, Pittsburgh, PA 15213).
Your input is needed to narrow down the design options for Bus Rapid Transit in Pittsburgh. You can directly impact how BRT on the Downtown & East End Corridor could better server the Oakland neighborhood. Get on board and make our voice heard. Help decide how Bus Rapid Transit can improve Oakland. Learn more at GetTherePGH.org or (412) 258-6643.