Air quality in Allegheny County meets federal standards for first time in recorded history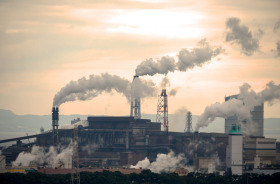 It's no secret that Greater Pittsburgh region has routinely ranked high atop the list of the most polluted areas in the U.S. according to the American Lung Association (ALA) – including April 2020 where we were rated as the eighth-most polluted in the nation for airborne particle pollution or soot and received an "F" ozone grade. Our low ranking surprisingly, though, did still represent an improvement for all three measures tracked in the ALA report.
Good news this week was reported by the Alleheny County Health Department showing that, for the first time in recorded history, all eight of Allegheny County's air quality monitors have successfully met federal air quality standards for carbon monoxide, nitrogen oxide, ozone, and particulate matter on an annual and 24-hour basis. The monitors are located in Liberty, Avalon, Lawrenceville, South Fayette, Harrison, Clairton, North Braddock, and along the Parkway East.
Year over year, our region's primary abuser that has kept the entire area out of compliance has been U.S. Steel's Clairton Coke Works – located near the Liberty monitor – which has recorded readings well above the EPA's standards for particulate matter of 12 micrograms per cubic meter averaged over three years. Data recorded by that Liberty monitor shows an annual average for 2020 of 9.8 micrograms per cubic meter (which not only meets the EPA standard, but meets the World Health Organization standard of 10 micrograms per cubic meter, as well). According to reporting from WPXI, Next Pittsburgh and others, these numbers are currently being certified for submission to the EPA for approval.
Allegheny County Health Department Director, Dr. Debra Bogen, said in a statement that "This achievement comes after years of hard work by the Health Department, fedearl and state agencies and local industry to clean up the air in Allegheny County, but we have more work to do, and the Health Department is committed to ensuring everyone in Allegheny County has clean air to breathe."
Contrary to what may seem like an obvious catalyst for the improvements, this success is not directly attributable to the changes in travel or shutdowns caused by the pandemic, as there were not significant decreases in industrial production during the time. Before the pandemic began, the county was already well on its way to coming in below the federal standards for 2020 based on improvements being made countywide every since the 2017 Notice of Violation received from the EPA against visible emissions and maintenance violations from U.S. Steel's Edgar Thompson Works in Braddock which sparked the development of raised fines for a new civil penalty policy that aimed to encourage compliance.
Pittsburgh's air quality index (AQI) can be monitored on an dailiy or even hourly basis at IQAir.com if you'd like to stay informed on a day-to-day basis.