New York City DOT plans to significantly expand bike lanes and public spaces in 2023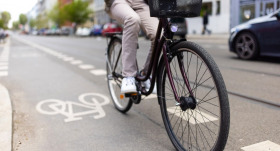 This article from Smart Cities Dive details how New York City's Department of Transportation plans to boost bicycle and pedestrian accessibility, add protected bike lanes, and improve public spaces in Brooklyn in 2023 (according to a press release in mid-November).
The agency plans to make it easier for bicycles and pedestrians to access the Washington Bridge connecting the Bronx and Manhattan, and will add protected bike lanes and two-way bike boulevards to several streets. It also aims to improve public spaces in Brooklyn, including an overhaul of the Grand Army Plaza in Prospect Park.
The upgrades build on the city's Open Streets program – which closes some streets to vehicle traffic for use by pedestrians and cyclists (much like here in Pittsburgh) – and its efforts to create the largest bike network in the U.S., which surpassed the 1,500-mile mark in October this year.
"To improve residents' quality of life, reduce traffic congestion, improve road safety and lower emissions, cities nationwide are considering or adopting plans to increase and enhance public spaces and expand the use of sustainable transportation options, including bike riding. Such efforts have gained momentum in recent years thanks to social changes brought on by the COVID-19 pandemic and rising concerns over climate change."