How over 330 mobility-related datasets from the U.S. Department of Energy's Livewire Data Platform helps with decision-making around new mobility technologies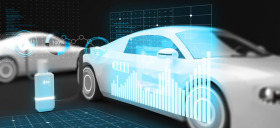 The expanding, unified Livewire Data Platform at the U.S. Department of Energy was developed in 2019 by the National Renewable Energy Laboratory is now available to anyone who requests an account.
"The Livewire Data Platform reduces barriers to sharing important research data," Lauren Spath Luhring, an NREL transportation software engineer and project leader, told NREL News. "It makes data discoverable and takes the burden off data owners who might not be experts in data management solutions. Through Livewire, their data are accessible to more people without having to worry about managing security."
Livewire currently features over 330 datasets from DOE Energy Efficient Mobility Systems program projects. It features a range of datasets at the vehicle, traveler and system levels, allowing researchers to study how advanced technologies like connected, automated, and electric vehicles, alternative fueling infrastructure, rural electrification, or multimodal transportation affect energy consumption.
In the last year, Livewire's catalog of projects and available datasets has grown by 48%, and the number of people with accounts has increased by 46%, NREL officials said.
To better understand travel choices related to new modes of mobility, for example, researchers can tap into datasets on travel behavior, technology adoptions, and smartphones. Traffic managers can access experimental or modeled data to help them validate traffic simulations. And telematics data can help explain vehicle behavior under different road and traffic conditions.
Each project has its own page on Livewire that lists and describes the project's corresponding datasets. Users can filter by data source, keyword, and data access method. And data contributors can choose who can view and access their project information and data.