Pittsburgh autonomous vehicle startup Argo AI shuts down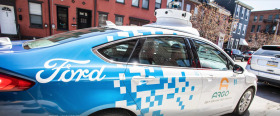 Argo AI LLC's shuttering last month brought Pittsburgh's innovation scene to a yet-to-be-seen reality amid the backdrop of a national tech downturn.
The autonomous vehicle startup's closure led to the termination of nearly 700 jobs throughout the region as Argo's two largest shareholders — Ford Motor Co. and Volkswagen AG — announced they would no longer support the Pittsburgh company, which employed about 2,000 globally, and instead will absorb the company's IP and other assets.
A sudden shutdown of a company the size of Argo, one of the region's most prominent AV firms, is unlike that of any other previous tech company to come out of Pittsburgh in recent memory. Only time will tell the true impact of the void created by its closure.
"The question at the moment is how much of that workforce stays in the region, how much of that research activity stays in the region," said Christopher Briem, a regional economist at the University of Pittsburgh's Center for Social & Urban Research. "I would imagine it's not good that Argo is going away. A lot of those jobs could go away, research activity could move elsewhere, the jobs and the workers could move elsewhere, but we'll have to keep a close eye on that."
Read more about how the company touted as one of the region's biggest budding tech success stories has now unraveled with reporting from Pittsburgh Business Times here.