Honda plans to make self-driving micro cars for people who can't drive or won't drive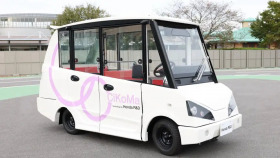 Honda is testing out tiny autonomous cars in Japan that are meant to appeal to old and young people alike. The so-called "micro-mobility devices" are part of Honda's attempt to branch out to those who can no longer drive themselves or are otherwise uninterested in cars, such as the elderly or the members of Gen Z, according to Bloomberg.
Japan is currently undergoing a shortage of workers as folks retire and exit the workforce; many of them are no longer able to drive themselves to work, and have withdrawn from social settings for the same reason. Honda's small AVs could help older people rejoin society, and also help them regain their mobility safely with Honda's CiKoMa and WaPOCHI, which are passenger cars and a robot that tracks and helps pedestrians navigate a given setting.
Check out the full story, including a lot more images from the inside of the prototype vehicle here.