Considering joining or starting a vanpool? There are countless benefits, but did you know that registered CommuteInfo riders here in Pittsburgh have the added benefit of Emergency Ride Home reimbursement?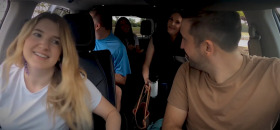 For for these carpool and vanpool riders in Austin, TX, the biggest benefits in their experience might surprise you:
Did you know that CommuteInfo sponsored vanpools include the added benefit of Emergency Ride Home? One of the most common disruptions to a group rideshare routine is when schedules change – but CommuteInfo has you covered!
With this benefit: When your plans change and can't make the scheduled carpool/vanpool departure time, simply make arrangements that make sense for you, then save the receipt and you can be reimbursed for the cost of the ride. To qualify for a reimbursement, you must be a registered with CommuteInfo and participate in a registered vanpool, carpool or Bike Now program and ride in the group the day that your emergency ride home is needed. The reason for the 'emergency ride home' must also fall within program guidelines, but as long as you can arrange the ride and pay, then save your receipt and submit a refund application within 30 days of the ride for processing – up to four times per year or up to a total of $100 in emergency trip costs.
For more information about joining or starting a registered CommuteInfo carpool, vanpool, or Bike Now program, call 1-888-819-6110 or visit commuteinfo.org.