Allegheny County Discounted Fares Pilot Program application period is open through end of 2022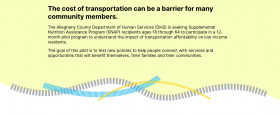 The Allegheny County Department of Human Services (DHS) is seeking Supplemental Nutrition Assistance Program (SNAP) recipients ages 18 through 64 to participate in a 12-month pilot program to understand the impact of transportation affordability on low-income residents.
The goal of this pilot is to test new policies to help people connect with services and opportunities that will benefit themselves, their families and their communities.
To qualify for the Allegheny County Discounted Fares Pilot Program, individuals must be between the ages of 18-64, currently reside in Allegheny County, and receiving SNAP benefits in September 2022. Individuals with disabilities who currently receive half-fare ConnectCard are eligible to participate, as well, through individuals who currently receive a fare discount through an employer or university are not eligible to participate.
If you choose to participate, you will agree to receive periodic requests to participate in paid data collection and research activities such as surveys, travel diaries, and interviews. You will not lose access to your fare discounts if you choose not to take part in these optional data collection activities.
Participants will be randomly assigned to one of three groups, with equal chance of being assigned to each of the groups:
Unlimited free fares on all Pittsburgh Regional Transit trips for 12 months
Pre-loaded ConnectCard with $10 and 50% reduced fare for all PRT trips for 12 months
Pre-loaded ConnectCard with $10, but with no fare discount through the pilot
This pilot is a short-term opportunity to learn from participants with the goal of informing the design of a permanent program. Allegheny County leadership seeks to understand how county residents may benefit from lowering the cost of public transit. This will include examining the effect of the reduced fares pilot on participants' use of public transit, their access to jobs and services, and their socioeconomic well-being.