University of Pittsburgh celebrates groundbreaking for new Campus Recreation & Wellness Center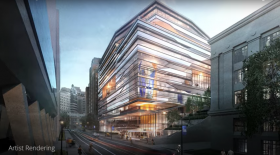 Remaining in place from The northern sidewalk along O'Hara Street in front of the O'Hara Garage and former LRDC remains closed with construction fencing in place throughout construction. Cyclists and motorists are reminded that the westbound bike lane on O'Hara merges with traffic lanes near Thackeray Ave as you approach the construction site – please use extra caution in the area and watch for cyclists and pedestrian crossings in this heavy traffic area.
University and community leadership gathered outside of Benedum Hall last Thursday, September 29, for the project's official groundbreaking ceremony. Learn more about the project details from Pitt's Student Affairs office here, and follow along with construction updates and travel impacts through Oakland TMA's Construction Resource Map as the project continues.
The new Center – anticipated to open in fall 2024 and become the "heart of campus" – will include gymnasiums, fitness areas, an aquatic center, jogging track, specialized activity spaces, dining facilities, and a space for a future wellness suite.