Startup company begins mapping reported hazards for bicyclists through Dashcam app for cyclists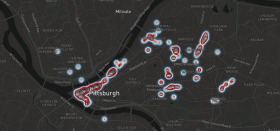 Participant in the PGH Lab 7.0 cohort, Armin Samii, and his startup called Dashcam for your Bike has released its first report last week that offers a street-by-street look at the parts of the city where bicyclists are running into obstructions and challenges while using Pittsburgh's dedicated bicycle lane network.
According to a quote from DOMI's Rylan Seifert on the mobile app's website, "This data will be used to inform DOMI's efforts to create a safe and connected bike network that increases access for people of all ages and abilities." The app intends to do so by enabling bicyclists an easy path to submitting 311 reports through the app which, in turn, help the city prioritize improvements.
To participate, cyclists can download the app for Android or iPhone and begin recording their ride. When encountering a hazard in Pittsburgh, you can tap the screen to add a marker, and then when finishing your ride, return to the marker, hit Share, and then choose to Report to 311.
Note: The map shown above (a screenshot taken from the app's website) does not represent the most dangerous areas of the city for cycling, rather it represents the areas where the most hazards have been reported by users.
Related Article:
Did you know that only 1% of all trips Americans take, even those over short distances, are by bicycle? So how can cities rapidly expand access to cycling infrastructure? Read this article from Urban.org to explore the ways cities are addressing expanding cycling networks quickly