Poll finds that Pennsylvanians are still uncomfortable sharing the road with driverless vehicles – and the discomfort grows the larger the vehicle gets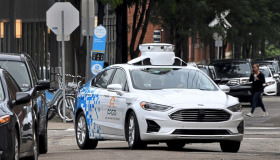 In a RABA Research poll that comes just a few months after lawmakers in PA House of Representatives passed a bill that would allow autonomous vehicle companies to test their cars on public roads without a human in the car to take over in case of emergency, more than half of survey respondents say they are still either "somewhat uncomfortable" or "very uncomfortable" sharing the road with "highly automated, driverless vehicles."
Sixty percent said they would be more likely to support a politician who supported requiring a human safety operator for driverless cars and trucks, although 64% were also unaware that PA was considering new self-driving testing regulations at all.
The bill is up for consideration in PA Senate this fall. Fully autonomous testing is legal in several other states already, and some PA Senate leadership say they're eager to keep up in order to maintain Pittsburgh's status as a hub for the autonomous industry.
The research notes that Pennsylvanians' comfort level with self-driving vehicles decreases as vehicles get larger – with 38% comfortable sharing the road with driverless small cars, but only 17% comfortable sharing the road with autonomous trucks – which are actually arguably the furthest along among autonomous vehicle testing in our state to date thanks to Pittsburgh-based autonomous trucking companies like Aurora and Locomation (which hopes to deploy its autonomous trucks as soon as 2023).
On the flip side, 31% of Pittsburghers polled by PennDOT actually hold a "very positive" opinion of autonomous vehicles – compared to only 11% of Pennsylvanians not in Pittsburgh feeling the same way. PennDOT researchers this year also found that many people are confused about what automation really means, as well, so the regulator is expected to publish the full results of its survey along with some definitions of what automation looks like for Pennsylvania's roads sometime this fall.
Related Articles:
Driverless taxi company backed by General Motors, Cruise LLC, is going to roll out robo-rides in two new cities, Austin and Phoenix, after starting with driverless rides in San Fransisco this summer
Pittsburgh-based Argo AI unveils full lineup of autonomous vehicle products for rideshare and delivery as eight cities, Pittsburgh included, await autonomous vehicle testing and deployment on public roads without a human driver present