PA Turnpike jumping into solar energy production with long-term goal of using solar power to electrify portions of the toll road to charge vehicles as they travel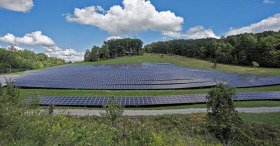 According to an article published by the Pittsburgh Post-Gazette's Ed Blazina, the Pennsylvania Turnpike is jumping into solar energy production to power its maintenance and office buildings – and they've got a long-term goal to use solar-generated power to electrify portions of the toll road so electric vehicles can charge as they travel.
The PA Turnpike Commission is awaiting an occupancy permit to open a solar field at a maintenance facility and new regional trades headquarters along Turnpike Route 66 near Jeannette. It will be the first of a series of solar facilities planned across the state – including New Stanton and Harrison City – as the turnpike takes advantage of property it already owns to develop solar energy and sell any extra capacity it produces.
Over the past year, the PA Turnpike has been installing just over 3,330 solar panels on a 5-acre hillside near Jeannette – the turnpike's first solar field. In conjunction with a natural gas generator, it's part of a $4.5 million project to create a microgrid to provide all the electricity the turnpike needs at the site, while generating additional electricity the turnpike can sell for $450-650k annually. The turnpike expects to recoup the cost of its solar investment in about five years once opened. The solar field in Jeannette is the first of many as the turnpike tries to cut costs, improve the environment and provide facilities for electric vehicle owners, and the project dovetails with a state auditor general's office report last week that called for the agency to be innovative to help eliminate its $13.2 billion debt.
At the same time, PA officials are working with the Ohio Turnpike and experts from special programs at Utah State University on a pilot project to electrify part of the highway which is expected to begin with a demonstration project using a turnpike parking space as a charging station in the next 18 months, followed by electrifying part of the toll road system straddling the Ohio-Pennsylvania border so drivers can power up while they drive within the next five years.
The "electrified highway" concept is part of a national effort established in 2020 at Utah State's ASPIRE center. In September, they've begun installing a 50-meter section of electrified highway on a test track in advance of opening the first system on a public road in Detroit next year through a joint effort with California wireless provider Electreon and the Universitsy of Michigan.
This longer-range project stands to create electrified sections of road where electric vehicles can be charged just by driving over the surface. The goal is to set up electrified stretches that not only provide power for motorists as they drive, but also recharge their batteries. Although the details and rates haven't been worked out, the owners of the electrified highway – usually a state or turnpike commission – would charge drivers for the electricity their vehicles receive. Drivers could turn off their receiver if they don't want to recharge while driving and be charged, for example.
The Utah State ASPIRE center is also working with another provider to design a segment of electrified highway for Disney World in Florida over the next four years.