More than 100 U.S. cities turning to microtransit to fill gaps in public transportation through on-demand vans, shuttles – reducing the reliance on personal cars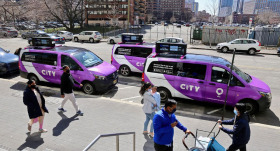 One service in Jersey City, NJ, for example, has serviced more than 1 million rides since February 2020 through their on-demand microtransit system – a service model developed to fill gaps in traditional public transportation networks among cities both large and small.
Sacramento, California, for example, rolled out an app-based on-demand shuttle service called SmaRT Ride in 2020 which recently expanded service for the city's half million residents. On the smaller side, Pflugerville, Texas – a city of approximately 65,000 people – has begun a ride-sharing voucher program with Uber and Martini where the city subsidizes a portion of the ride costs. (Note: That's also how the popular Jersey City program works – where the city contracted with Via in 2020 and is investing $7.5 million this year to support the service and keep the cost to riders at $2.00 to $2.50 per ride, comparable to bus and light rail fares.)
Today, more than 100 on-demand microtransit systems are operating in about 40 states nationwide, according to Via, a company that provides cities and transit agencies with technology and service operations for on-demand public transportation, paratransit and non-emergency medical transportation using ride-hailing vehicles (vans, shuttles, and buses) functioning as microtransit services operating on fixed or flexible routes and schedules, or through on-demand scheduling.
According to Jersey City director of infrastructure, Barkha Patel, the service continues to break ridership records month by month, quarter by quarter, and year by year. "It's just beyond anything that we would have expected in terms of travel patterns overall," she said.
In an area like Jersey City where more than half of the population uses transit to commute to work, the quality of transit service is still not up to par in some areas, so "the service continues to provide vital transportation for exactly the communities that it was intended to uplift," says Jersey City Mayor Steven Fulop. Recent data from the Jersey City program showed that 40% of all rides began or ended within 300 feet of an affordable housing location, for example.
Several other regions are working with Via, in particular, to eliminate similar gaps in public transit – including Colombus, Miami-Dade, Birminham, Green Bay, and more.
This article from Smart Cities Dive notes that shared bicycles and scooters can also address temporary gaps in public transportation service. In fact, Lyft – which operates extensive bike-sharing and shared scooter services nationwide – said in its 2022 multimodal report that 89% of its riders used shared micromobility as a first- or last-mile connection to public transit last year, and a third of riders used shared micromobility when public transit was not available.