Transportation Secretary Buttigieg speaks on how COVID-19 affects America's infrastructure priorities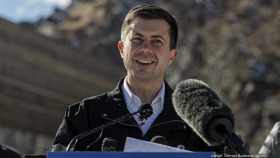 "I don't think everything will snap back to how it looked in 2019, but it's also been very striking how the pandemic and the isolation really taught us how important In-person collaboration and connections really are," Buttigieg said in an exclusive interview with The Playbook. "Part of why there's been such a struggle for example, in the aviation sector, is that people started wanting to fly again at a much faster rate than almost any of the projections anticipated."
But he stressed that in some areas, such as mass transit, Americans have been slower to return, and while remote work is changing how Americans move around the country – the need for transportation will not go away.
"And I do think that there are going to be new, different and more flexible models for work," Buttigieg said. "But they're not going to change the fundamental need for people and goods to move around and to do so efficiently and safely." That means infrastructure projects need to be more flexible than ever to cope with big changes, he said.
"Part of our focus now is to make sure that plans are flexible knowing that we can't perfectly predict what commuting patterns are going to look like by 2025 or 2035," Buttigieg said. "But some of the things we're building right now will still be in use in 2045, and so we want to make as many decisions as we can that we will be happy with even if some of the patterns on how they're used are subject to change over these."
The focus on flexible infrastructure comes as DOT recently unveiled a new proposed rule that aims to give small businesses a better chance to compete for contracts, including those associated with last year's $1.5 trillion infrastructure law. Buttigieg said the new DOT rule also aims to expand the nation's contracting capacity.
"We are investing in America's infrastructure at such a scale it's going to test our ability as a country to supply the workforce, the materials and the business know-how to actually get it done," Buttigieg said. "What that means is that we cannot afford to leave any talent on the table."
Buttigieg said the DOT's approach will involve some specific tools, including the new proposed rule. The proposed rule includes adjustments to DOT's Disadvantaged Business Enterprise and Airport Concession Disadvantaged Business Enterprise programs. A DBE is a business that is at least 51% owned by a socially or economically disadvantaged individual, which includes minority groups, women or those with disabilities within a certain income range.