Despite free bus fare in Kansas City, many workers using RideKC still confront obstacles along their commutes – reliability and proximity to transit system among issues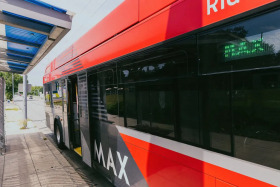 In 2020, Kansas City became the first major U.S. city to offer free bus fare through a three-year program called ZeroFare KC. And while this milestone helps with access to transportation, the Kansas City Area Transportation Authority continues to see decreasing ridership – by approximately 3 million riders between 2019 and 2021.
Before it was free, the city collected $8 million in fares per year. The city budget has since then dedicated $4.8 million to the transit system – with plans of making up the other half with federal pandemic funds through 2023. After that, KCATA will continue to seek a diversified funding partner to fund ZeroFare KC.
According to Cindy Baker, VP of Marketing, Communications & Customer Service at KCATA, ridership recovered at a quicker pace than many other transit agencies due to KCATA's zero fare program, with ridership now 80% of pre-pandemic levels.
However, according to this article from the Kansas City Beacon, the pandemic doesn't paint the whole picture regarding the drop in ridership. Currently less than 3% of workers in Kansas City use the bus to commute, and only 12.8% of low-income households are near a transit system. Moreover, long wait times, infrequent bus service, complex reroutes, and lack of communication negatively impact the bus experience for many riders.
Read the full article from the Kansas City Beacon to learn more about how the RideKC service operates, the issues faced by the agency and its riders, and how they're hoping to solve them.