Could taking an air taxi home from the airport be in Pittsburgh's future?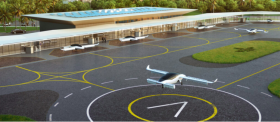 With $20 million in federal infrastructure money and thousands of construction workers already working on the new terminal project at the Pittsburgh International Airport, NextPittsburgh's Michael Machosky is talking about "electric vertical take-off and landing vehicles" or eVTOLs.
Think of eVTOLs as air taxis that take off and land vertically, like helicopters, but fly faster, like small airplanes; and instead of being reliant on expensive jet fuel, they'll be electrically powered.
According to Allegheny County Airport Authority's Paul Hoback, "It will happen in the near future. You have to consider the design and location of vertiports. We'd like to have a plan and be prepared when these eVTOLs come to market."
Sites under construction for a vertiport include the roof of the airport's short-term parking lot and the ends of concourses B or C in the airside terminal, Hoback says. Existing helipads can also be used as landing sites, and the technology could include the potential for building new ones.
Currently, Florida is the furthest along in adopting this air taxi technology with country's first high-speed, electric air mobility hub planned for Lake Nona outside of Orlando. Lilium, a German aviation company, plans a network of at least 10 zero-carbon vertiports, and there are many types of electric aircraft in development that have shown promise, but federal approval has been slow, according to Machosky. The eFlyer 2 by Bye Aerospace in Denver, for example, was introduced in 2016 and first flew in 2018, but still awaits approval from the Federal Aviation Administration (FAA). Testing by the FAA is extensive and time-consuming, so it's hard to say when this technology will really start to take off.