When might Pennsylvania permit driverless vehicles on its roads?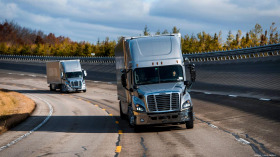 Which states currently allow driverless vehicles on public roads? According to the Insurance Institute for Highway Safety, 10 states explicitly allow AV companies to conduct testing without requiring a human to be in the vehicle: Alabama, California, District of Columbia, Louisiana, Maine, Michigan, North Carolina, Ohio, Tennessee, Texas, Utah, and Washington. West Virginia also joined the list on June 10, and Oklahoma will join them on November 1.
Though several autonomous vehicle companies have called Pittsburgh home for the last few years, Pennsylvania law currently bars vehicles from operating on public roads without a human safety driver present inside the vehicle. So while each company is pursuing the route to commercialization a bit differently with their self-driving products, all AV companies that conduct testing in Pennsylvania must wait on legislators in Harrisburg to change state law if these companies wish to validate their efforts of truly driverless vehicles. But the day when Pennsylvania joins about a dozen other states across the country where driverless vehicles are permitted on public roads may be sooner than we think, according to reporting from the Pittsburgh Business Times.
The question rests largely on Senate Bill 965 which has been working its way through the PA Senate since it was first introduced in January. If passed as currently written, the bill would allow autonomous vehicle companies operating in Pennsylvania to conduct AV testing on public roads without the need for a human to be inside the vehicle. The last action the bill received was on April 13, though more progress on the bill's passage could be coming soon.
One of several local companies that would benefit from its passage is Pittsburgh-based Locomation Inc. which is developing an autonomous trucking solution called Autonomous Relay Convoy (ARC) where a human operator drives a lead truck while an autonomous truck with a driver who is off-duty follows behind, enabling the trucks to double the amount of time permitted to operate as the two vehicles take turns swapping places along a route. Until the bill passes, however, Locomation's ARC product can't be validated in Pennsylvania. In the meantime, they're already conducting autonomous testing on a closed track outside of Columbus, Ohio, and other forms of testing on portions of Pennsylvania Turnpike 576 which runs between Bridgeville and Pittsburgh International Airport.
As recent as April 20 during the official opening of another company, Aurora Innovation's new headquarters in the Strip District, Governor Wolf said he would sign the bill if it ended up on his desk. Like Locomation, Aurora is also developing an autonomous trucking solution, as well as an AV platform for ride-hailing and last-mile goods delivery. Aurora owns a closed track of its own in Hazelwood, which was acquired from Uber Technologies Inc. when Aurora purchased their self-driving division in January 2021. And Pittsburgh-basd Argo AI recently announced it has gone driverless in Miami, Florida and Austin, Texas.