What does the infrastructure bill mean for Pennsylvania? A conversation with PA Transportation Secretary, Yassmin Gramian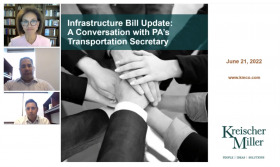 Now commonly known as the Bipartisan Infrastructure Law (BIL), the $1.2 trillion infrastructure bill includes $550 billion in new infrastructure investments that could have transformational impacts on local communities, but what does it all mean for Pennsylvania? This 50-minute presentation and conversation with Pennsylvania's Transportation Secretary, Yassmin Gramian, presents a lot of information, answers questions, and provides unique insights on everything from roads and bridges, electric vehicle chargers, public transit and passenger rail investments, airports and ports, high-speed internet access, new discretionary programs, funding allocation, and implementation considerations.
Link to the presentation slides directly here, or watch the video for the full conversation from June 21, 2022, via the Kreischer Miller website here.