Review transit options using Pennsylvania's Find My Ride to learn about public transit options and apply for transportation assistance programs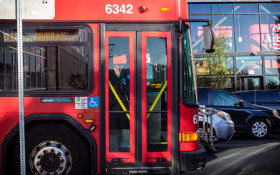 Getting people to work, to medical appointments, connecting people to their communities and neighboring regions, transit plays a critical role in Pennsylvania. This month, Pennsylvania's departments of Transportation (PennDOT) and Human Services (DHS) are reminding Pennsylvanians to use Find My Ride (FMR) to learn about public transit options – including shared ride service in all 67 counties, fixed route bus service in 49, and fixed route rail service in Pittsburgh and Philadelphia – and to apply for transportation assistance programs.
Since its rollout in May 2021, Find My Ride Apply has processed applications for nearly 8,000 Pennsylvanians. The online tool was developed collaboratively with transit agencies and streamlines the application progress for the five largest transportation assistance programs in the state, including the Senior Shared Ride program, the Medical Assistance Transportation Program (MATP), ADA complementary paratransit, the Persons with Disabilities program, and the Free Transit Program. Additionally, FMR Apply allows third-parties like family members or healthcare providers to apply for services on behalf of a rider.
To use the Find My Ride Apply tool, customers do not need to determine what programs they are eligible for ahead of time. As a result, the user-friendly application has resulted in an increase in applications submitted, and automatic data validation has contributed to saving transit agencies time and money by processing applications more efficiently – allowing transit users to access benefits more quickly.
Collectively, 24.4 million trips supported by these programs were provided to Pennsylvanians in the 2021-21 fiscal year. An additional 141 million trips (including 17.7 million free senior trips) were provided through fixed route service in the same period.
Find My Ride's education and application modules were developed over a two-year period, and made possible by $1 million from the Federal Transit Administration and $1 million in state transit funding.