Researchers at Carnegie Mellon University's Traffic21 outline recommendations for policymakers to consider while pursuing autonomous transit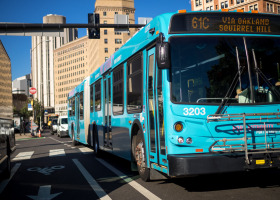 According to reporting from the Pittsburgh Business Times, the future of fully automated public transportation is likely still many years out from reality, but it's a future that will bring a fundamental impact to the way these very systems operate and serve their customers.
Anticipating this, researchers at Traffic21, the transportation research institute at Carnegie Mellon University, have outlined a set of five recommendations that policymakers should consider as this future drives itself closer to reality. As part of a 20-page policy brief document published earlier this spring, the group also outlined the current state of automated transit offerings around the country and offered insights into the challenges that still remain before these systems can be deployed broadly.
The first recommendation made in the policy brief is a request that the U.S. Department of Transportation (DOT) research the new work tasks that might be required of transit workers, and the stresses those tasks might bring should bus- and van-operated transit systems become autonomous.
As part of the second recommendation for policymakers, Traffic21 calls on the Federal Motor Carrier Safety Administration (FMCSA) and the Federal Transit Administration (FTA) to support the research of active and passive systems and how those systems could improve a transit operator's ability to maintain safety on the road.
Traffic21 also suggests new oversight measures and requirements be developed by DOT and the FTA Bus Testing Program to ensure safety isn't downplayed if transit systems adopt autonomous buses and vans that are marketed as being not in need of a human operator.
The brief goes on to recommend that DOT and FTA ought to support a hazard analysis of advanced automation levels in transit operations, including support for local authorities that might wish to implement their own hazard analyses as part of a Public Transportation Agency Safety Plan. Additionally, Traffic21 says frontline transit employees and their unions should be involved in these analyses.
Finally, Traffic21 calls on DOT and its modal agencies to invest in new infrastructure innovations that would allow for data collection and sharing among agencies as it might relate to autonomous transit systems, as well as to provide oversight on automated transit operations.
"Automated vehicle technology has the potential to fundamentally impact public transit operations," the brief notes. "While private companies have ambitious plans for automated vehicle deployment, operating transit is more complex than light-duty passenger vehicles."